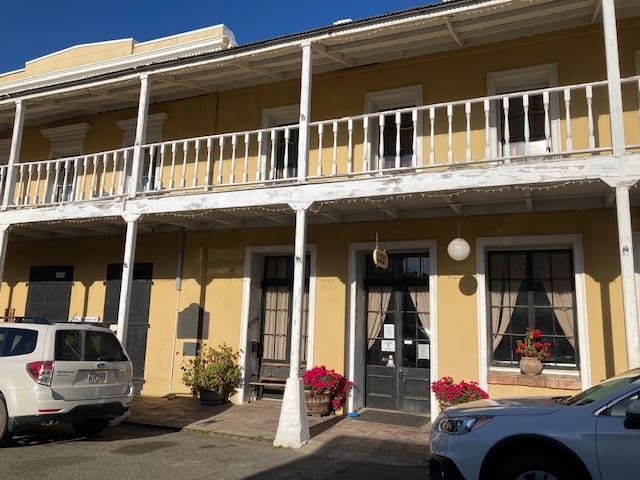 June 28th 2021, 9 PM ET – Multicam live stream with Ghost Adventures Psychic-Medium Patti Negri, Psychic Medium Amber Martin and Paranormal Investigator Jim Martin.
The Hotel Léger was first established in 1851 and is still one of the longest continually operating hotels in California. The town and hotel were once the busiest in the Mother Lode, attracting miners and business people from around the world. This haunted location is one of the rare few that still have a portion of the old tunnel system underneath its foundation. This tunnel is known to hold a dark presence that has scratched and even attacked its inhabitants. We invite you to join us and experience all the rich paranormal history this location has to offer.
For more information on the Hotel Leger log onto: https://www.hotelleger.com/
Patti Negri is a Psychic-Medium and "Good Witch" best known for her recurring role on the Travel Channel's #1 show GHOST ADVENTURES. She is the international best-selling author of OLD WORLD MAGICK FOR THE MODERN WORLD: TIPS, TRICKS, & TECHNIQUES TO BALANCE, EMPOWER, & CREATE A LIFE YOU LOVE.  Patti was voted number one psychic, medium, trance medium, tarot reader, witch / magical practitioner in the world in an Internationally competition by Times Square Press.  Patti's body of work includes appearances on such shows as MASTER CHEF, AMERICA'S GOT TALENT, WipeOut and Jeff Lewis' FLIPPING OUT. Patti has a popular weekly podcast called THE WITCHING HOUR and can also be heard on nationally syndicated radio with Adam Corolla, Jason Ellis, Mancow Muller and Coast to Coast with George Noory.  She has graced numerous magazine covers, contributed to over 20 books and conducted seances on radio, film, and TV working with such legends as Emma Stone, Jon Voight, Martin Sheen and Gregory Hines.
For more information on Patti Negri log onto: https://www.pattinegri.com/